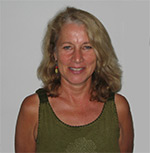 I am a psychotherapist who has been counseling individuals and couples for over 25 years. I have been on the Moontree staff since 1990. I help people with issues of anxiety, depression, OCD, grief, PTSD, relationship problems or just personal growth.
I am a holistic psychotherapist. I use a variety of therapeutic modalities, combining traditional talk therapy, behavior therapy and experiential mind-body techniques. I also teach meditation and relaxation techniques to help deal with stress. I use compassion, creativity, intuition, humor and non-judgment in my approach to working with people. I enjoy working with people of all ages and from different walks of life. I help people heal on all levels, whether it is mental, emotional, physical or spiritual. Life is a journey and sometimes it is very challenging. It's OK to ask for help.
You may reach me by phone at 608-256-5115 x2.